Orange County Wedding Spotlight: Laguna Beach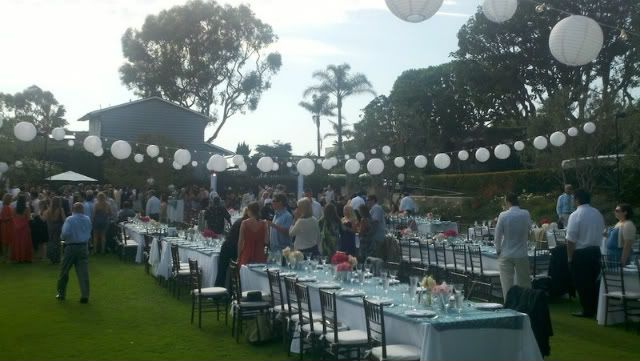 Elevated Pulse recently had the pleasure of working with Ellen and daughter Erin, also the Bride, on a garden wedding reception in Laguna Beach. They had already hired an OUTSTANDING Beatles cover band for music, so we were able to provide all of the lighting for the event. We were also lucky enough to work with one of the most sought after wedding planners in the world, Mindy Weiss Party Consultants. Her staff were so professional and organized you could tell she only hires the best!
The wedding ceremony was held on the beach where the Bride grew up. And to keep with the elegant, cool, clean beachy look, Erin requested all warm tones for the reception lighting. Elevated Pulse set up Bistro Lights strung across the garden space with alternating white paper lanterns above all the tables. We also featured amber colored uplighting around the perimeter and pin spot lights to highlight the dessert table.
Lastly, we provided Intelligent Dance Lights on truss columns to help light up the dance floor as the band rocked out. Overall, we kept neutral tones and colors and after looking out at the entire reception from a far...you could see that Erin's vision had come together :)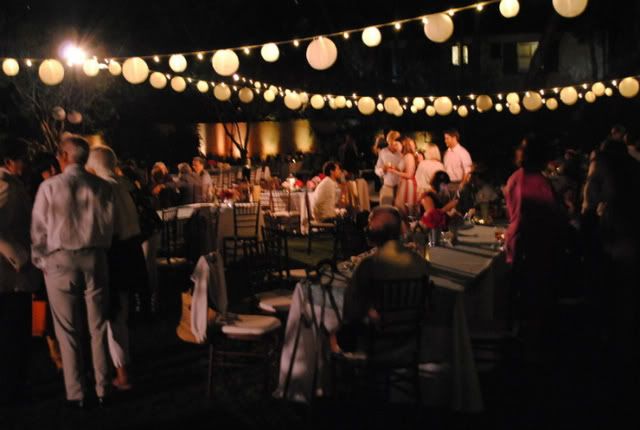 Check out the blog post from their talented photographer, Kristina Lee Photography!